Is your business IT giving you headaches?
Are you having difficulty managing your company's IT on your own? Is your current IT support provider falling short of your expectations? If you answered yes to any of these questions, then let's talk.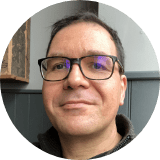 Book Your 15-Minute Call
Hi, I'm Craig, the Managing Director of Abussi. This is my personal calendar and you can use it to book a 15-minute video call at a time that suits both of us.

Before we talk, here are a few important things to keep in mind:
I look forward to speaking with you soon!
"*" indicates required fields